DISCOGRAPHY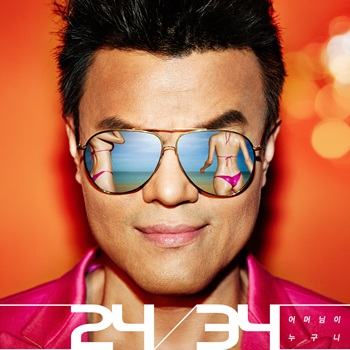 TRACKLIST
1. Who's your mama? (Feat. Jessi of Lucky J)
2. Behind closed doors
Rhythmical Groove, Electronic Soul, J.Y. Park 'Who's your mama?'
Waist 24 Inch, Hip 34 Inch, the Song Praises Women! J.Y. Park, 'Who's your mama?'

- J.Y. Park Comes Back to the General Public with a Digital Single Album '24/34' after 1 Year and 7 Months.
- The Song Praises a Woman with 24 Inch Waist and 34 Inch Hip.
- An Album that Combines 'Electronic Soul' and modern 'Synth Instruments.'
- Digital Single Album with Total of 2 Songs, 'Who's your mama', and 'Behind Closed Doors', Both Wrote and Composed by J.Y. Park "The Asiansoul."
J.Y. Park comes back to the general public with a digital single album '24/34.'

JYP's head comes back after 1 year and 7 months. Because J.Y. Park has presented unusual musical point of views and unique performances as Asia's best composer and producer, his new album raises sense of expectancy.

The title of the digital single album 'Who's your mama?' is electronic soul genre; the song combines traditional soul music and modern synth instruments. The song praises a woman with 24 inch waist and 34 inch hip. The song contains J.Y. Park's unique spirit as a talented entertainer. The song is sensuous as its light-hearted and rhythmical groove makes the song's completion excellent.

Secondly, 'Behind closed doors' combines R&B with orchestra string music and grand piano. J.Y. Park calls this song to be the sexiest song among all the songs that he himself wrote and composed; the song is about a woman, who turns sexy beyond one's imagination when the two are alone.

Be fascinated with a talented entertainer J.Y. Park's attraction, who crosses over unconventional performances through a collaboration with Jessi.