DISCOGRAPHY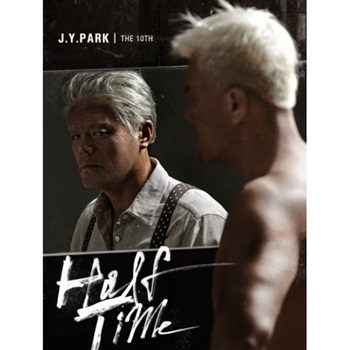 TRACKLIST
1. Halftime
2. Greatest of these(with NamgungSongok, Gaeko of Dynamic Duo)
3. Had enough parties
4. She doesn't know
5. Mingle mingle
6. You're the one (Happy Ending Ver.)
J.Y. Park, Comeback with 10th Album 'Halftime' that Loads the Weight of Life
J.Y. Park, Retraces the 'Past' in his Halftime and Sings the 'Future.'

- Dancer J.Y. Park, expresses life Halftime in music
- Singing about 'the life gone by' and 'life to come' in his mid-life
- An album that is filled with pure anguish as a musician or a human being
As the title stands for, J.Y. Park's 10th album `Halftime` is an album that demonstrates his life halftime in music.

J.Y. Park defines 'Halftime' as a transition in which one's life thesis changes from 'I should live life to the full' with no doubt to 'Why do I have to work so hard?'
As it can be inferred in the repeated refrains of the lyrics 'I won't just live my life as it is,' the song 'Halftime', which has the same name as the album, well demonstrates J.Y. Park's mind as he anxiously search for the purpose of life once he reached his halftime.
As the lyrics `When I close my eyes I wish I'm not afraid. Where I'm heading for with my life, I wish I know and walk with confident footsteps.' expresses aptly, the title song 'Had enough parties' contains anguish that in a desire to find the goal and the truth of life and to live with certain objective.
`Greatest of these(with NamgungSongok, Gaeko of Dynamic Duo)` contains desperate concerns about the reason that people were born and the reason people have to make a living. J.Y. Park wrote most of the songs in this album, including this song, while he traveled Middle West and Israel in last Fall in search for the concerns mentioned here.
'She doesn't know' is a legitimate soul genre song that J.Y. Park loves wholeheartedly. It is a song about his desperate one side love towards a woman, who he is not allowed to love.
'Mingle mingle' is about him wanting to do nothing all day but just to mingle with a woman he loves. While this song is farthermost from the concept of this album, it resembles J.Y. Park the most.
'You're the one (Happy Ending ver.)' is a song that was added in a Mini Album 'Spring', which was released last year. At that time, the song that was originally composed with the Major Code transformed into the Minor Code in order to add dance and performance; however, the song was reinterpreted in this album as a bright song by becoming Major Code as it was originally intended to be.